LET'S MAKE
YACHTING
PLEASANT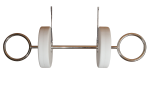 FINALLY A
DINGHY DAVIT
THAT'S STYLISH
We love dinghies. They are fun, fast and flexible – useful for both pleasure and safety. With our new fold-up davit you hoist your dinghy without any hassle and launch it in less than one minute.

Dinghy Rings is a patented innovation from Sweden. It's based on the good old "golden rule of mechanics".

Thanks to the rotating rings this device is discreet, stable and very easy to use. No clumsy installations on top of the swim platform, no flooded dinghy in case of rain and no need to unlock the outboard.

It doesn't even cost you a fortune. Buy now or watch the video.

The fold-up dinghy davit is a Swedish innovation, designed and made in Sweden.

Patented in Sweden and Pat pending in EU, USA, Canada, China.